Fall is here (though it may feel like summer, it is most definitely fall and if the Weather Channel is to be believed, the actual weather will line up with the season by Sunday). It is my favorite time of year. I am a fall jacket/hard cider/pumpkin-y kind of guy. I am also a churro kind of guy…in a big kind of way. If the saying "You are what you eat" was interpreted from a literal standpoint, then I would surely look a lot like a churro or a bagel with veggie cream cheese.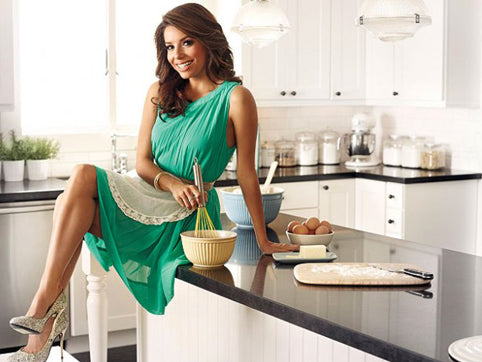 And turns out that television superstar Eva Longoria would also look much like a churro, only more delicious and sexier than most. Let me explain. Eva Longoria rocketed to superstardom by portraying Gabriella Solis in the television-hit sensation, Desperate Housewives. Sadly, I am unfamiliar with the show (I know, bad American), but I am deeply familiar with Eva's culinary passion having eaten at her Las Vegas restaurant (since shuttered), Beso. And it was here that Longoria stole my heart over a small parchment cup filled with mini churros. It was instantaneous gratification, and weirdly, it reminded me of Disneyland – at least the churro stand at Disneyland – and that is the only time Eva Longoria and churros and Disneyland have overlapped in my brain.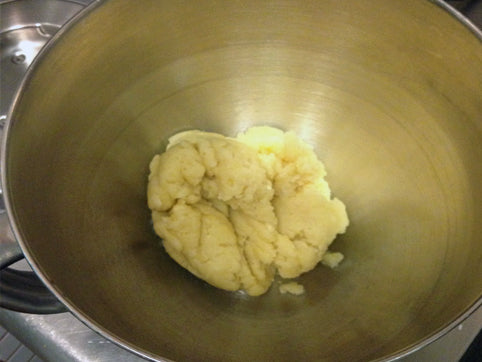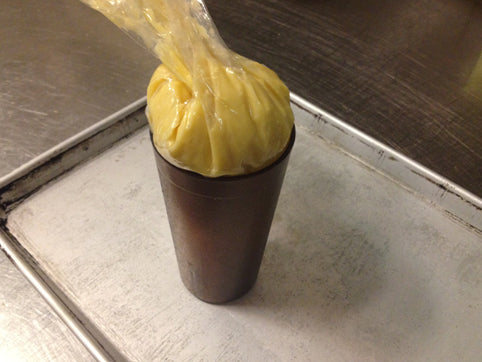 Luckily Eva's Kitchen: Cooking with Love for Family and Friends, contains this vaunted recipe. Churros are basically a lighter, fluffier, fried doughnuts. And Longoria's recipe is extremely simple and beyond delicious. No need for a deep fryer  -just get some vegetable oil and heat over a medium flame. The batter itself is extremely simple: combine flour, water, salt, and eggs.
Churros may look daunting (they're not) and frying may sound like a lot of work (not really), but don't turn away. Make this recipe. Do it for Eva and do it for me.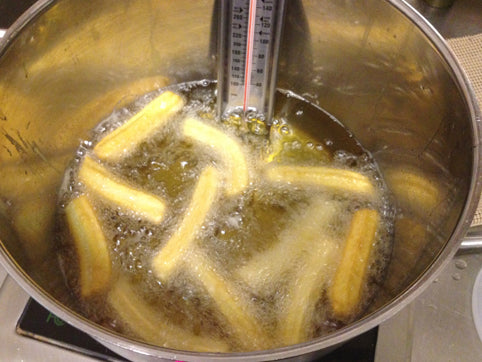 Recipe notes: At first I was concerned that I didn't have the proper star-tip (number 7) that the recipe suggested. No worries, just use a larger sized tip (equal bigger churros). Longoria's recipe recommends piping the dough directly into the hot oil – and using the side of the pot to break off the piped churro. I found it was easier to have a pair of scissors and simply cut the 4″ piped cut churro into the oil. After the churros have been fried (I had success with 4 minutes) transfer them to the baking sheet lined with paper towels. Use Tongs! The oil will be hot! The cinnamon sugar that Longoria coats them in is delicious- make sure to coat while still warm. And last but not least, I highly recommend dipping them in a ancho chile chocolate ganache. Simply, double boil about 2 cups of good dark chocolate, 3 tablespoons of corn syrup and 1 teaspoon of ground ancho chili powder. Happy fall.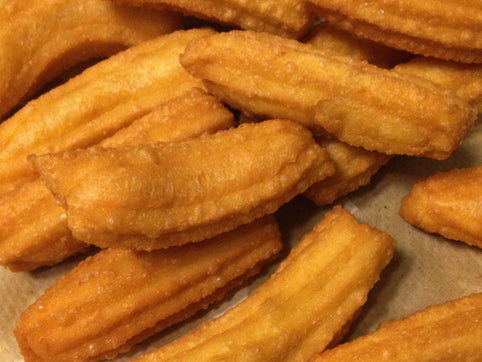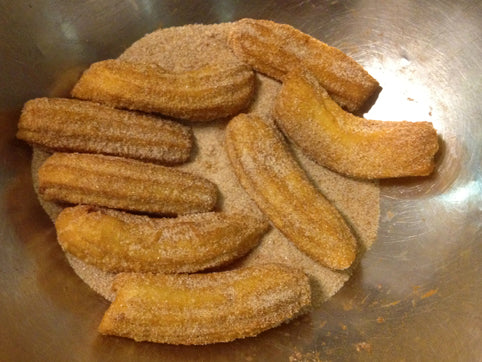 Churros RECIPE ADAPTED from Eva's Kitchen: Cooking with Love for Family and Friends
Ingredients:
1/3 cup unsalted butter
pinch of table salt
1 cup AP flour
3 large eggs
½ cup sugar (for rolling the churros)
1 tablespoon ground cinnamon (for rolling the churros)
veg. oil, for frying
Directions:
1. In a medium saucepan, place the butter, 1 cup of water and salt. Bring to a boil over medium heat. Add the flour and stir over the heat until the mixture pulls away from the sides of the pot and comes together to form a cohesive dough, 30 seconds to 1 minute.
2. Transfer the flour mixture to the work bowl of an electric stand mixer fitted with the paddle attachment. Beating on low speed, add the eggs 1 at a time, and then continue to beat until they are thoroughly blended, about 2 minutes.
3. Fit a piping bag with a large star (number 7) tip. Place it in a tall drinking glass tip-end down and open the bag. Transfer the batter to the bag, filling it no more than halfway. Twist the top to push the batter down and into the tip. Set aside.
4. In a shallow bowl, place the sugar and cinnamon and stir with a fork until well blended. Set aside.
5. Line a baking sheet with paper towels. Pour the oil into a large skillet till it is about 1 inch deep. Heat the oil over medium heat to 350 degrees.
6. Pipe 4- inch lengths of the dough directly into the hot oil. To release the dough from the piping bag, scrape the tip against the side of the pan or use a butter knife. Fry 3 or 4 pieces of dough at a time, turning once, until golden brown, about 4 minutes total. Adjust the heat as necessary to keep the oil temperature at 350 degrees. Use tongs to transfer the churros to the paper towels to drain. As soon as they are cool enough to handle, roll them in the cinnamon-sugar mixture until well coated. Serve warm.